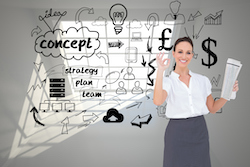 Since our primary goal in founding the Sunshine Sharing program is to help expand the knowledge of herbs and natural healing, we want to train our members how to share this knowledge and turn it into a business so they can support themselves in doing so. This is why we are also offering coaching in business skills. Many people who learn about herbs and natural healing struggle to develop their skills into a viable business, because business training is lacking in most herbal training programs. Through the Business Coaching webinars, Steven Horne will be building a library of training materials teaching people how to develop a personal vision, establish personal and professional goals, and set up, market and manage a business. Here are the topics he'll be covering in the coming year.
Business Coaching Classes
When we are young we dream a lot. Young people often have big plans and big dreams. However, over the course of our life time the setbacks we experience and the challenges of life make many people stop dreaming. Proverbs tells us that "hope deferred maketh…
One of the hardest parts of advertising is to get people's attention and keep it. Because people like to be entertained, you sometimes need to be a little "over-the-top" to get your message noticed and read. This webinar will be based on Bill Glazer's…
In this business coaching webinar, we'll cover the importance of writing in business and marketing as well as techniques and tips for effective writing. Join us and start writing better today.
Being able to effectively motivate others people is an important business skill. We have to motivate customers to do business with us. If we have employees we have to motivate them to do a good job. As natural health consultants, we have to motivate people…
There's nothing worse than attending meetings where nothing gets done. Steven has served on the boards of two non-profit corporations and has also worked in corporate America. He knows how poorly conducted meetings can waste time and accomplish nothing.…
USP stands for Unique Selling Proposition. A USP is something unique that you offer that sets you apart from the competition. It provides a benefit that other people in your business don't offer. Another way to look at this is what's your POV (point of…
In business, one is constantly working with people—employees, venders, customers and suppliers. This is why understanding personality types and knowing how to appreciate and work with a wide variety of people is very important for success in business.…
Search
Upcoming Events
Edible and Medicinal Landscaping, Part Two
May 11, 2021
Common landscaping plants and trees can be used for…
Seven Keys to Heart Health
May 25, 2021
Natural Remedies for Heart Problems