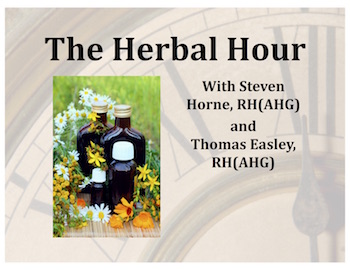 In the Herbal Hour, Steven Horne joins forces with Thomas Easley to discuss our monthly topic from a more generic perspective. The Herbal Hour focuses on single herbs and nutrients in solving health problems and was designed for our members who are not Nature's Sunshine Managers or Distributors.
The Herbal Hour often introduces you to the finer points of herbalism, giving more specific uses and indications for single herbs. Thomas Easley also studies a lot of the current scientific literature as to provide listeners with new perspectives and research on health.
If you're interested in learning about herbalism, nutrition and natural health care in general, you'll find the Herbal Hour helpful, informative and enlightening.
The Herbal Hour Classes
Metabolism is the process by which we convert the potential energy (calories) in the food we eat into actual energy our cells can use to operate. This process takes place inside tiny organelles known as mitochondria (singular—mitochondrion). The Krebs…
Our mind is an amazing instrument. More powerful than any computer ever made, it operates every automatic process in the body, as well as allowing us to process incoming sensory data, remember important information, solve problems, exercise creativity…
Due to Thomas Easley being out of the country, this month's Herbal Hour has been cancelled. The topic will be completely covered in the Sunshine Sharing Hour version.
Iodine is a trace element that is absolutely essential to health. It is a vital component of the thyroid hormones, which regulate metabolism, and it appears to be helpful in other tissues as well. Iodine is a natural disinfectant and may help the immune…
Stress is a big part of many people's lives and the glands that help us respond to stress are the adrenal glands. These are the glands of adaptation. They adjust the body's hormones to help us deal with dangerous or frightening situations. They also help…
The liver isn't a very glamorous body part, but this  brown, three pound organ is one of the most overlooked body systems when it comes to overcoming chronic and degenerative diseases. With over 500 functions to perform, a sluggish, toxic, overworked…
The reproductive system offers some unique challenges because there are so many factors involved in reproductive health issues. And, while sexual intimacy is not the only ingredient to a healthy relationship, it is important in developing the bond of…
Over 2,800 studies are available on PubMed about the alkaloid berberine, a constituent of many herbs traditionally used to fight fevers and infections.  More than half of these studies have been put up on PubMed in the past five years. This research…
Search
Upcoming Events
Be Herbally Prepared: Mental Preparation for Hard Times
February 7, 2023
How to mentally and spiritually prepare for times ahead
Solving Urinary Health Problems
February 28, 2023
Natural solutions to UTIs, kidney stones, cystitis,…