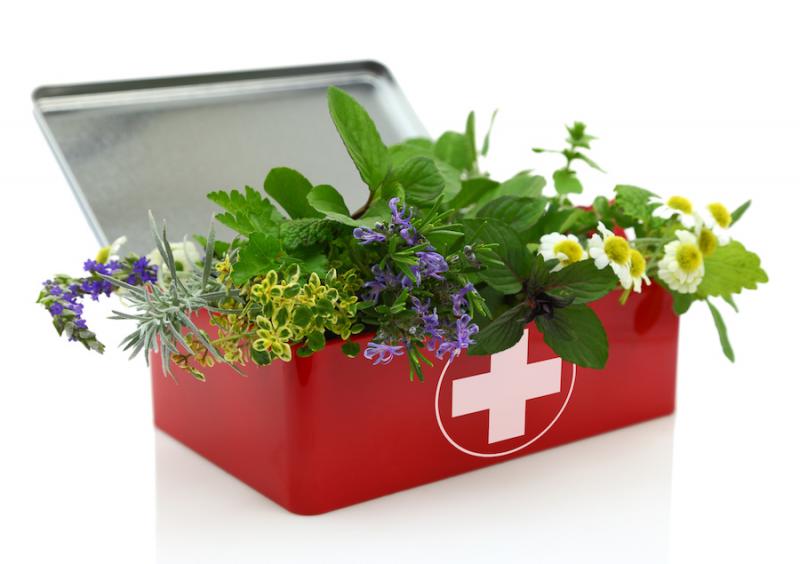 From time to time everyone experiences minor injuries—cuts, bruises, abrasions, burns, sprains, insect bites and stings, and even broken bones. While modern medicine is necessary for serious injuries, most minor injuries are easily treated at home with some basic knowledge of first aid. And, with all injuries both minor and serious herbs, essential oils and other natural remedies can help to ease pain, prevent infection and promote rapid healing.
In fact, when it comes to helping injuries actually heal, herbs and essential oils work better than drugs. They help to reverse the inflammatory process and cause the injury to heal more quickly, usually without scarring.
That's why we're going to discuss first aid using herbs and other natural remedies in this month's herbal hour. Specifically, we're going to cover how to treat: abrasions, scratches, abscesses, bites and stings, cuts, bleeding and hemorrhaging, blisters, bumps, bruises, burns, sunburn and scalds, cramps and muscle spasms, diarrhea, frostbite, headaches, nausea, poison ivy and poison oak, shock, slivers, smashed fingers, sprains, and wounds. We'll also discuss remedies to help the body heal faster from broken bones and other serious injuries.
The session will also discuss what remedies you should have in a first aid kit, with a specific list of recommendations for herbs, essential oils, and other natural remedies to have in the kit. You'll also learn about some common weeds you can use in first aid.
Be prepared for emergencies by creating your herbal first aid kit and learning how to use it. Join us at this month's Sunshine Sharing Hour and learn valuable skills and remedies for first aid.