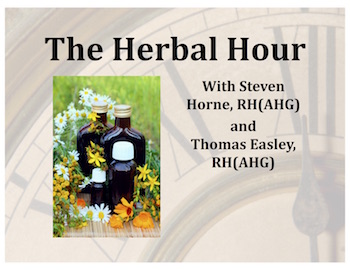 In the Herbal Hour, Steven Horne joins forces with Thomas Easley to discuss our monthly topic from a more generic perspective. The Herbal Hour focuses on single herbs and nutrients in solving health problems and was designed for our members who are not Nature's Sunshine Managers or Distributors.
The Herbal Hour often introduces you to the finer points of herbalism, giving more specific uses and indications for single herbs. Thomas Easley also studies a lot of the current scientific literature as to provide listeners with new perspectives and research on health.
If you're interested in learning about herbalism, nutrition and natural health care in general, you'll find the Herbal Hour helpful, informative and enlightening.
Search
Upcoming Events
Making Herbal Medicines
October 10, 2023
Basic techniques for making your own herbal medicines
Let Food Be Your Medicine
October 24, 2023
Using Food and Culinary Herbs to Heal Disease