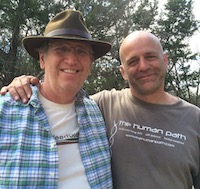 Steven met Sam Coffman at an herb conference at Mormon Lake, Arizona. He attended his workshop where Sam did a simulation of an emergency situation that Steven found incredibly useful and fun. He was so impressed he went to his survival course for a week and took a wilderness first aid class from him.
Sam began his medical education in the military as a U.S. Special Forces Medic (aka Green Beret medic) in 1989. At that same time, he became highly interested in herbalism as a way to provide health care in remote regions with a minimum of medical supplies. He founded and runs a survival and herbalism school, The Human Path and Herbal Medics University, offering training online, on campus and throughout the USA. He also co-founded the nonprofit, Herbal Medics, a 401(c)(3) which supplies integrative medicine to underserved communities both in the United States and abroad, as well as post-disaster assistance. Sam is also a registered herbalist with the American Herbalist Guild.
Of course, Steven won't be picking his brain about his herbal knowledge. They'll be talking about how he got started in herbal medicine (a fascinating story) and how he has developed his business. One thing Steven has observed about Sam is that he's really good with social media.