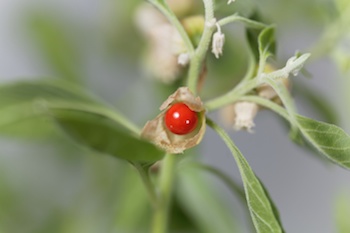 The stress of modern society leaves many people feeling tired, but unable to relax and sleep properly. Adaptogens are herbs that help the body cope with stress. There are two basic types of adaptogens. The first, and most well-known, are the stimulating adaptogens like Korean or American ginseng, Eleuthero root, and schizandra. The second are the nourishing adaptogens like ashwagandha, reishi, astragalus, and holy basil.
Studies and clinical experience show that ashwagandha is as potent at relieving stress as American or Korean ginseng, without the risk of overstimulation that can occur with the excessive use of ginseng. Ashwagandha is an Ayurvedic herb that has been used for over 3,000 years in India. It is becoming widely recognized as one of the best nourishing and rebuilding adaptogens one can use.  
A calming adaptogen, Ashwagandha helps balance people with elevated or low cortisol. By helping to re-establish normal cortisol rhythm, Ashwagandha is suited for use in all disorders where stress is a factor. Ashwagandha has a nerve tonic effect, helping to increase your tolerance to stress, reducing your level of anxiety, while lifting your mood. It is helpful for relieving both depression and anxiety disorders.
This valuable adaptogen also benefits the immune system, boosting white blood cell counts and helping the body resist the harmful effects of chemotherapy and radiation treatments. It also modulates the immune system in autoimmune disorders and fibromyalgia.
Ashwagandha is beneficial for low thyroid, a common problem in modern society. It likely prevents the conversion of T4 to Reverse T3, an inactive form of thyroid hormone caused by excessive stress. In addition, both animal studies and clinical experience show that it helps to calm autoimmunity, the primary cause of hypothyroidism in America. 
In this month's Sunshine Sharing hour, we'll tell you all about the amazing benefits of ashwagandha, and tell you about some of the other nourishing adaptogens you can use when your body is depleted and exhausted from stress.