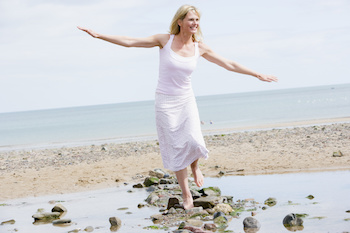 Women experience a unique challenge to their physical and emotional well-being. Each month until menopause they go through a cyclic process of hormonal changes. If these hormones get too far out of balance they can create physical discomforts such as headaches, water retention, painful cramps. They can also produce emotional symptoms including irritability, depression, and sadness.
Over the course of a woman's life, chronic hormonal imbalances can create more severe health issues. Excessive levels of estrogen can cause heavy menstrual bleeding leading to anemia and fatigue. Excess estrogen can also result in uterine fibroids and an increased risk of breast cancer. 
As women grow older, they face further changes to their hormones as they pass through perimenopause and later menopause. When hormones are out of balance during the change of life women can experience hot flashes, night sweats, vaginal dryness and a loss of bone health. Emotionally, these hormonal changes can cause mood changes such as irritability or depression. 
The medical world uses synthetic hormones to try to correct these problems, but these medications can cause some very severe side effects. Fortunately, there are natural ways to help maintain hormonal balance. Herbal remedies have been used for countless generations to keep women healthy during the child-bearing years and on into menopause. In more recent times nutritional supplements have also been found to help maintain hormonal balance. 
We'll cover these natural alternatives to synthetic hormones in this month's Sunshine Sharing Hour. Join us to learn how to stay balanced naturally.